It was one year ago today that we started production on
Westinghouse
. Quite a bit has changed since then. Pictured above is us filming at
The George Westinghouse Museum
in Wilmerding. Today the museum has merged with the
Senator John Heinz History Center
in downtown Pittsburgh. The artifacts will be on display this fall from what I understand.
Ed Reis, who is pointing at the Westinghouse Roaster, is now the Westinghouse Historian at the Heinz History Center, which is a fantastic place to visit. I recommend you check it out if you're visiting Pittsburgh.
It was a cold and snowy day back then on January 17th, 2007. It's a cold and snowy day today on January 17th, 2008 too. The big difference is that I'm DONE with the film (sort of). We're still authoring the DVD, but that's another story.
Pictured above are the "Westinghouse Twins" as they were called. The Laundromat and the clothes dryer. These are featured in the final cut of the film.
So how did this thing come together in a year...? Well, a lot of work. After I met Ed Reis in late 2006 we agreed to do the film together. I did some preliminary research and coordination, got the budget approved, etc... We filmed for a few days at the museum and also filmed the George Westinghouse Memorial in Oakland. I started writing the film in about February of 2007 after reading the Westinghouse biography by Henry Prout.
I photographed and scanned and acquired all kinds of pictures, articles and footage, literally thousands of images. Editing began in February, I write and edit at the same time so that the script follows what images and footage are available. And after a year of writing, editing, re-writing, re-editing, filming, interviewing and coffee drinking I'm finally done. I hope to post more about the process in the coming weeks as we get near the release date of April 8th!
I watched the DVD last night to make sure that the encoding looks as close to HD as it can, and it does. Every shot was inspected and it looks and sounds great. My eyes felt like they were on fire by the time I was done. I'm taking a few weeks off very soon to do all the housework I've neglected over the past year. I'll wake up in the morning, get a cup of coffee and play Xbox. I'll win Bionic Commando again on my NES. I'm going to walk the dog every day and get outside away from computers. Walking the dog doesn't involve pixels and compression ratios...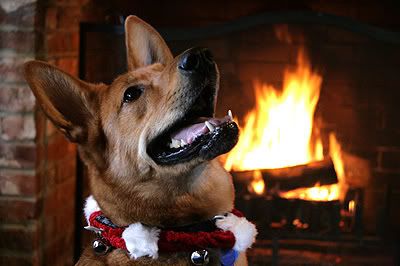 Sure, Stella loooks cute. But what she's really thinking is "Feed me or I'll rip your arm off and eat it"
Westinghouse can be pre-ordered now at major websites like
Amazon
.
You can view the trailer
HERE
.