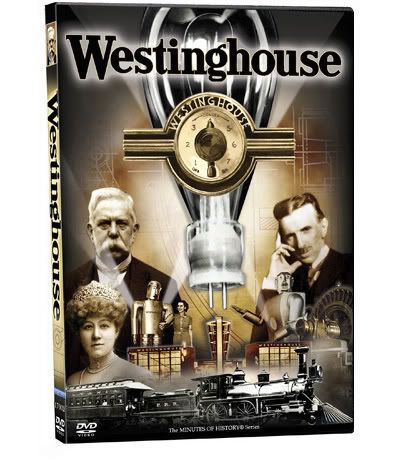 The documentary film on George Westinghouse, his legacy, companies, partnership with Nikola Tesla and battle with Thomas Edison is finally done. After more than a year of pre-production, writing, collecting, photographing, videotaping, editing and post-production the HD film is ready for the world.
My office looks like a bomb hit it. There are papers, hard drives, tapes and notebooks strewn about the barren landscape. I've lost a few pounds, my eyes hurt and I'm generally tired at looking at computer screens (which is why I haven't blogged in a month).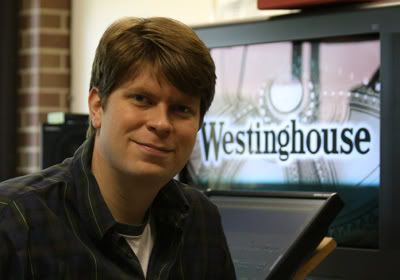 Done! (so tired...)
The film was nearly complete in November. I had recorded the narration with Carol Lee Espy and had a "more or less" complete edit done. We had received a tremendous amount of interest from the engineering community and from Westinghouse employees. I was fortunate to convince Inecom to extend my budget a bit and decided to record some additional interviews to round out the film. Especially later in the film when the focus shifts to what happened to all the Westinghouse companies. I thought this was best described in their own words and it came out great. Descriptive, positive and full of pride. I owe many thanks to Jim Sutherland and Ed Reis and the SURE group.
I recorded this final batch of interviews around December 1st that totalled 10 hours, and gave myself three weeks to complete the editing of the film. For anyone considering getting into filmmaking this is
NOT
the way to do this. Fortunately I'd been through this before, and fuelled by coffee and French onion soup I went to work. I digitized everything, ran out of drive space, bumped terabytes of data to external drives while keeping clips I wanted, took notes of the best takes and then worked them all back into the edit. The total drive space used is close to 12 terabytes.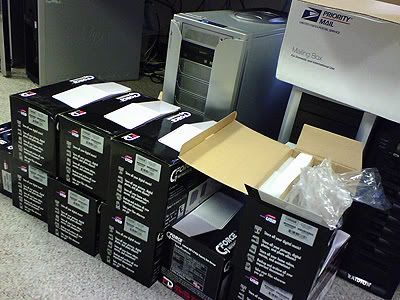 Pictured about are just some of the 1TB hard drives used for file backups. The main drive is a 6 terabyte Raid striped for HD playback.
After that I trimmed any narration parts that seemed redundant and tweeked the interviews (removing "uhhhs" and "ummms") and reworked the pictures and footage around them. I filmed the WABTEC Corporation in Wilmerding, received some shots from Westinghouse Electric Company (they build nuclear power plants today) and filmed a bunch of last minute insert shots like the extreme close up of the light bulb turning on (which can be seen as the first shot on the trailer
HERE
)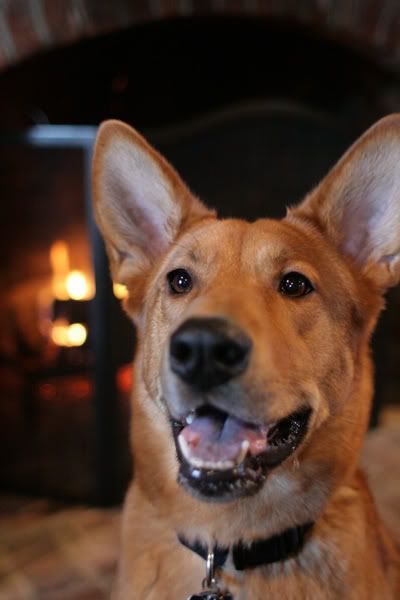 Pictured above is Stella who missed me while I was busy editing... After watching the film again and again and again I took a break through Christmas and then came back and polished it up by color correcting and really finishing the edit. After new year's I've been working with Doug and Jay on the final audio mixing and DVD mastering. Now it looks like we're about done. It looks good, sounds good and I think tells a fun and exciting story that hasn't been told before.
The DVD is scheduled to be release on April 7th, 2008. You can pre-order it from sites like
Amazon
or pick it up in stores. I know there will be some release events and some stuff going on in Pittsburgh (which is of course where the Westinghouse companies were based, and some still are). I hope to keep everyone informed of the release news. I'm going to go continue cleaning my office now.
The official website is
www.WestinghouseFilm.com