How real does Game Room keep it? Real real. Really. No, Realli!
I'm still waiting on the photos from the
Classic Game Room
party. In the meantime:
Classic Game Room was recently reviewed by
Bill "The Game Doctor" Kunkel
. You can read what he has to say
HERE
. We're glad Bill took the time to watch the film, thank you!
In other news, I've had a few requests for autographed copies of the Classic Game Room DVD from Game Room fans, new and old alike. I'd be very happy to scribble all over your DVD or insert and make the DVD worth even less than it is now.
I'm still figuring out the easiest way to do this since we don't have any events scheduled at this time. If you are interested please post on my blog or drop me an email through
TheGameRoom
YouTube account. I appreciate all the kind words and support of Game Room viewers. It's amazing that so many people remember our show from back in the day! Thank you!
Pictured above is a shot from the photo shoot for the
Classic Game Room
packaging. The film has been very well received and with any luck will do well enough so that we can bring the rest of the series out and make some new films. It's too early to tell at the moment. It would be great to work with Dave again, I think we'd make a great film if we got the Game Room team back together again.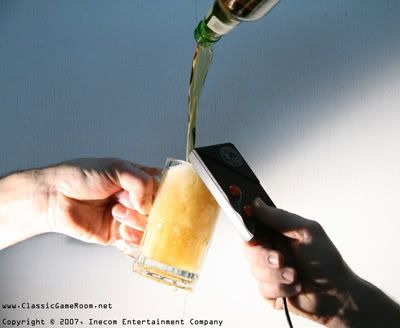 Another photo, this one had way too much foam!
In the meantime, when I'm not working on my new historical film, I've had some insomniac time to play with my new Xbox 360. I can see why everyone is really worked up about this thing and why a whole new generation is being introduced to classic games like
Contra
and
Joust
. Xbox Live is awesome! I've been sucked back into classics like
Smash TV
,
Robotron 2084
and have played a few latenight games of
Mortal Kombat 3
with a good friend from school. (Finish him #26!)
You have to imagine a bunch of 30-something guys on headsets talking about home repairs and kids while trying to rip their opponents' heads off, thus spewing blood all over the screen and winning. Ahhhh video games, bringing people together.
Pictured above is my Forza 2 Black Label Beer Lamborghini Gallardo. I do not drive that car in real life.... really. No, realli!