It's a happy place...
On the 4th day of our journey we bode York a fond farewell, enjoyed a full English breakfast, walked the walls one more time and made our way to Masham.
Masham is a Beautiful small town not far from York (you can Google Map it) in the Yorkshire Dales region as they call it. We wish we'd have spent more days in that area but regrettably did not plan the time. An article in Beer Advocate magazine said "You know you love beer when: You plan vacations around trips to breweries". Guilty! We stayed the night at the
Garden House B&B
and highly recommend it for anyone looking to travel to Masham or visit Theakson's. You can travel by train from York to North Allerton and then call LadyBird taxi service to come pick you up.
I had every intention on visiting the
Theakston's Brewery
while I was in England. Back when I was in London in 2005 we just happened to duck into a pub called the
Green Man and French Horn
while it was pouring. They had several beers that I had not tried on tap, one of them was called
Old Peculier
. Now this beer was one of the best beers I've ever had. Completely unique... rich, sweet and creamy but
not too
sweet... with something special about it. I had three of them, had a great time in the pub and walked straight into a lamp post afterwards.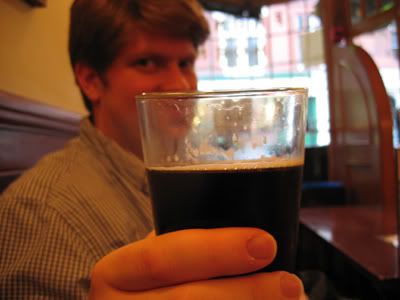 Above is a picture of me from 2005 at the Green Man and French Horn. Cheers! Ever since then I've wanted to visit the Theakston's brewery and we did! It was great! My only regret is we took the last tour of the day and did not get to spend as much time in their fine bar afterwards as we would have liked. Check out their bar below.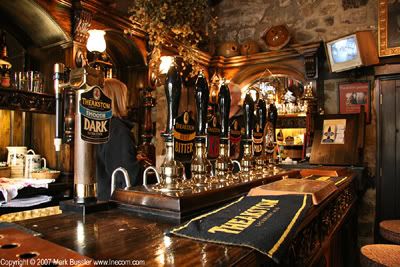 The tour was fun because the guide was personable and entertaining. Being that Theakston's is a small, independent brewery you get a real sense of the craft and care that is put into their beer. I'm not just blowing sunshine up their ass, I've been to major "corporate" breweries before that "brew" billions of gallons of beer each year much like you might mix a pitcher of Cool-Aid. However, when you visit one of these independent breweries like
Theakston's
or
Samuel Smith
you see first hand the old fashioned gravity system used to make the beer from start to finish, from top to bottom.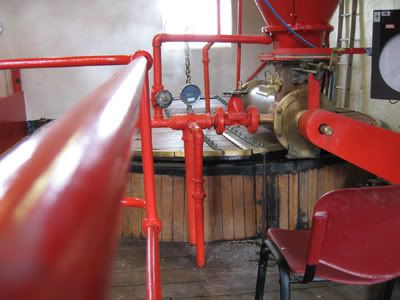 I saw the beer fermenting in legendary
Yorkshire Squares
made of slate. Mmmm... who knows, maybe there's Old Peculier in there?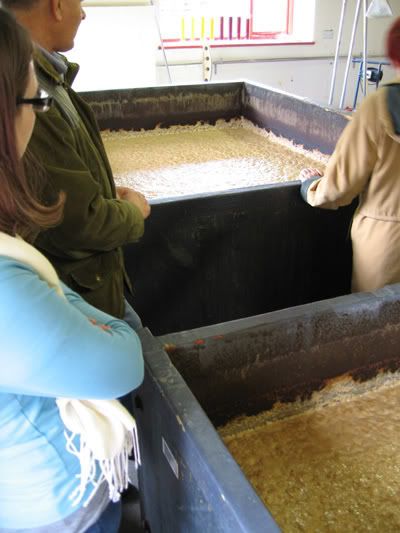 After the tour we both sampled 2 half pints of beer and the even better surprise was the
Old Peculier
that was served on cask in their pub was the freshest, creamiest and best
Old Peculier
that I've ever had. I enjoyed the fine balance of the unique sweet taste with the taste of the alcohol that they pull off. It is a strong beer and tastes like it, but that's part of the charm. Their Theakson's Bitter is also an excellent beer and one of the best bitters we had on our trip.
Later that evening we dined at the
King's Head Hotel
that served Old Peculier on cask.
A special thanks to Simon Theakston who posted the following comment on my blog earlier:
Mark,

I'm delighted that you enjoyed tasting our beers whilst visiting our brewery in Masham recently. I very much look forward to welcoming you once again in the very near future.

Kindest regards

Simon Theakston
Mr. Theakston, we'd be there tonight if we could! Thank you to everyone at Theakston's and Sue and George Furby at the Garden House for making our visit to Masham a very memorable one. Onward to day 5 in Durham!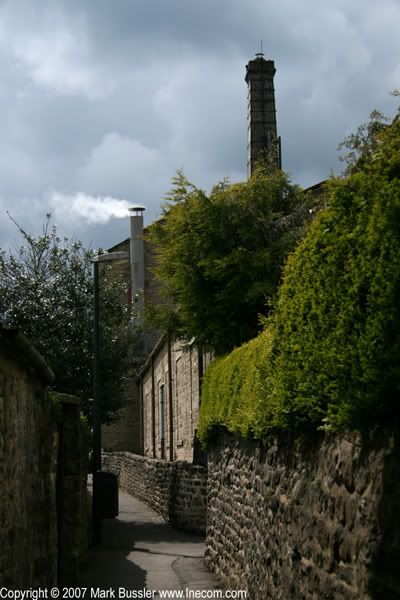 Pictures of town and Theakston's above taken with Canon Digital Rebel XTi w/ 17-85mm IS lens. Interior shots (with exception of the really rich bar shot) taken with Canon Powershot SD500. Photos Copyright © 2007 Mark Bussler are not to be reproduced without my permission.