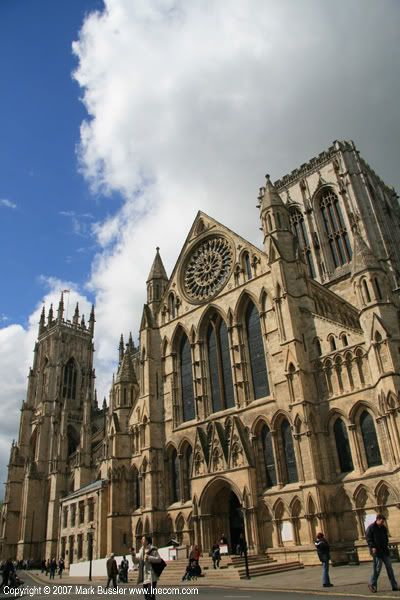 Photo above is Yorkminster Cathedral. Look how small the people are! Click all images on this post for larger image.
On the third day of our trip to England we woke up and walked the walls of York. York is a beautiful town in the North of England that retains much of its Roman/Norman character and is very well preserved. Tight streets lined with neat shops and restaurants weave through the unique city that comes surrounded with walls that are still mostly intact. The walls are very well preserved and were actually expanded in the 1890's for walking. You can see in the picture below the Norman wall built on top of the ancient Roman wall. Photos taken with Canon XTi Digital Rebel with 17-85mm IS lens. Click to bring up bigger image.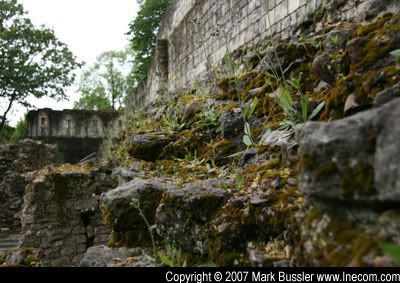 This was our second time visiting York and we were happy to spend more time in the mighty Yorkminster. You could easily spend a week in there looking at the architecture and details. Some of the finest stained glass in all of Europe is fully intact in York. (next two shots photographed with 300mm IS lens)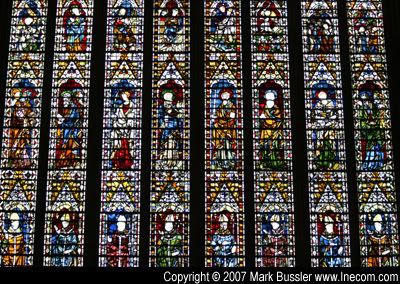 View from inside and outside one of their massive stained glass windows.
We paid the extra few pounds and walked to the top of the tower. Now I'm a fairly big guy compared to the people who built this thing hundreds of years ago, so climbing the hundreds of little steps in the circular staircase to the top wasn't my favorite part of the trip. But the view was spectacular.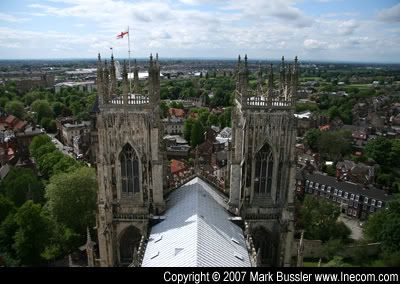 A photograph inside Yorkminster. What is really amazing about this kind of cathedral is that it was built before machines, power tools and computers. I doubt that it could be built today with the same kind of attention to detail.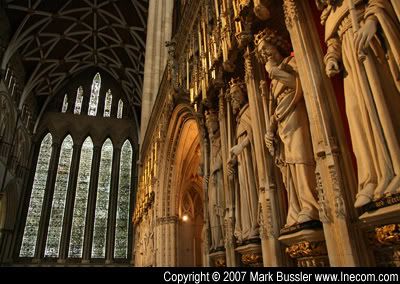 We also took our second "free walking tour" of the city. Free tours are offered once or twice a day (Check the Tourist Information in York for details) and I highly recommend them. You learn about the walls, the stories, the history and cathedral. We also took a ghost walk in the evening!!! Although I saw no ghosts.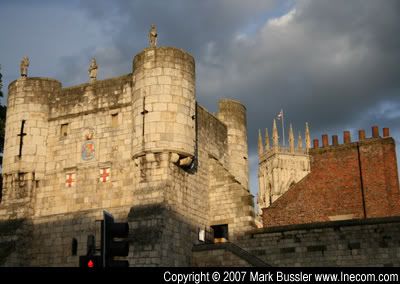 York is full of great pubs and eating establishments. We enjoyed the
Old White Swan
and
Ye Olde Starre Inn
while we were in town. And of course the
King's Arms
by the river (The pub that floods!). They have a brick bar, sturdy beams and a lack of carpeting. There is a sign on the wall showing how high the water rose each time it was flooded. In 2000 it would have been completely over the bar!
Not only are the people there friendly but they serve all kinds of
Samuel Smith
beers on tap. Samuel Smith is one of my favorite beers. It is brewed not far away from York in a small town called Tadcaster. I visited their brewery back in 2005 and had a great time.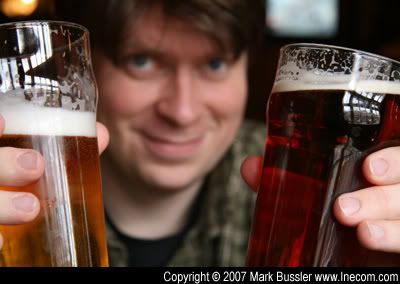 Excellent! In the picture above I'm holding a pint of Samuel Smith Bitter in one hand and Pure Brewed Lager in the other. I also sampled the Samuel Smith Alpine Lager but preferred the Pure Brewed. At a different pub I tried their wheat beer which I really enjoyed. Ironically it tasted a lot like
Penn Brewery
Weisen which is brewed in Pittsburgh and consistently wins national awards.
Above is Emperor Constantine! Or at least a statue of him. No photos are to be reproduced without permission. All photos Copyright © 2007 Mark Bussler.