Bollocks! We're back from our 2 week trip of England and Scotland. My wife and I had planned for nearly a year to return to the U.K. and see more of the country. We had been there in 2005 and really enjoyed the country, people, history, food and beer. Most people think we're crazy but we love cellar temperature cask pulled ales, fish and chips and cottage pie with mushy peas. Yum!
We practically circled England and even made our way into Scotland for a few days. Since my film production is pretty much confined to editing at the moment, and that's usually not the most exciting thing to blog about, I'll be using my blog to let friends, family and readers know the day by day account of our fantastic trip.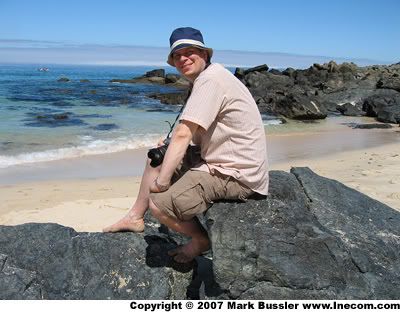 Above is a shot of me at St. Ives on the very Southwest tip of England.
Here's the overview of our trip. Starting in Pittsburgh we bounced from Philadelphia to Heathrow Airport outside of London and went straight to York (one of our favorite cities on Earth!). We then visited Masham, Durham, Stirling, Doune, Keswick in the Lake District, Penzance, St. Ives, Canterbury, Heathrow to Philadelphia and finally back to Pittsburgh.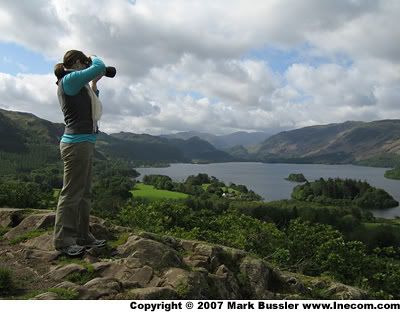 We both love photography and planned to photodocument our entire trip every step of the way. Above is a photo of my wife using our Canon Digital Rebel XTi on top of Castle Crag overlooking Derwentwater Lake in the Lake District. We're both interested in history, architecture and fine brewing so we saw many cathedrals, castles and visited a few breweries on our trip. And a "few" pubs.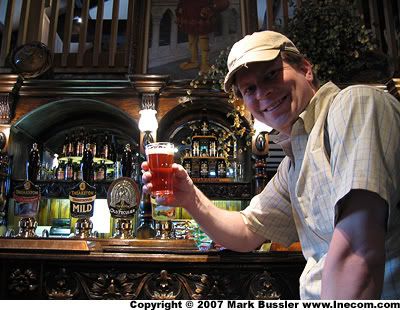 There is a nice picture of me sitting at the bar at the
Theakston's
Brewery in Masham. As everyone knows I love beer and my favorite beer on earth comes from the North of England in the Yorkshire region. There's just something magical in the water up there. I was fortunate to visit the
Samuel Smith's
Brewery for my 30th birthday in Tadcaster a few years ago. Visiting Theakston's this trip was a real treat.
Old Peculier
is one of the best beers ever made... although I think I'm holding a sample half pint of Theakston's XB in that photo. Their Theakston's Bitter is excellent and was one of the best bitters that we enjoyed during our trip.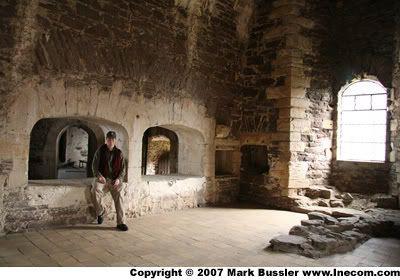 Here's a great shot of me sitting in Doune Castle in Scotland. That was one of my favorite days because not only was Doune Castle beautiful, well preserved and a lot of fun to tour without any bastardized commercialism or forced tours... but they also filmed
Monty Python and the Holy Grail
there! They even let visitors borrow coconuts to clack around the castle (which I did and I have video).
You may notice the location where I'm sitting from the scene where Michael Palin's character walks into the room full of ladies in Castle Anthrax. I had our video iPod with us to make sure we were at all the correct spots.
I'll start with day 1&2 on my next blog post. I'll combine those days because we stayed up for 2 days straight when traveling over there. We photographed the entire trip with both cameras, our Canon XTi and Canon PowerShot SD500. I'll be posting small and some enlarged versions of our photographs from the big camera. None of the photographs on this blog are permitted to be used anywhere or reproduced without my permission. However I hope that you enjoy them and let us know what you think!Cheers!