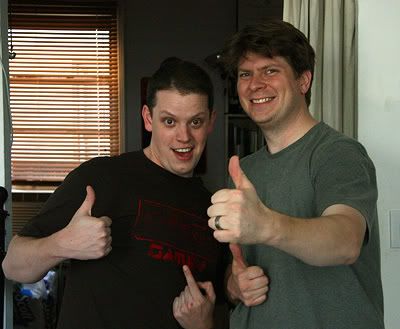 Classic Game Room hosts
David Crosson
and
Mark Bussler
, circa August 2007.
I was able to meet up with Dave in NYC a few weeks ago and catch up. It had been about 2 years or so since we hung out and it was great to see him again and BS. We talked about movies and video games, shared our thoughts on the Xbox 360, HD-DVD, Blu-Ray, PS3 and whatnot. Dave pretty much sold me on finally getting a 360 for the Xbox Live feature alone. Oh ok.... twist my arm. I may finally get a new console system. I still want Blu Ray too. Damned format war.
Dave is doing very well and was bouncing off the walls with his usual excitement for living. He has changed careers completely (from video game reviewing) and maybe... just maybe.... someday, maybe... the Game Room might return... But as mentioned in the commentary on the film, we don't live in the same city anymore and we both have other professions and activities that consume our lives. But we'll see what happens with the
Classic Game Room
film being released on August 28th. If it sells like hotcakes in a hotcake festival on hotcake day, then maybe the studio will really want another one. I like hotcakes.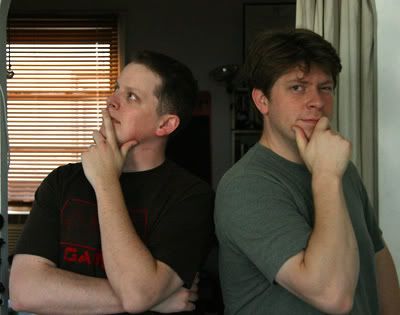 I think that given the right project we'd be happy to work together again. Perhaps on another Classic Game Room film, since we're both still into classic games. Or maybe a ninja movie, since we both fear and respect ninjas.
GOOD REVIEWS ARE POURING IN!
You never know how a film is going to be received and it's always a shock to learn how viewers react to what you've worked on for months. Do they like the pacing, story, editing, subject, plot, technical qualities, etc...? Or do they simply throw the dvd out the window and watch "E.T." for the 1000th time?
So far the Classic Game Room reviews have been excellent. I've been impressed that the reviewers have taken the time to dig into the disc and really appreciated what we were going for originally, as well as how it was mixed with the retrospective documentary and finished.
As a few people noted, Dave wasn't involved with the documentary, which I certainly would have preferred. But as I mentioned earlier, when my shooting budget for this project was about the cost of a PS3 there's not a lot I could do out of state. All travel was nixed.
In fact, if you've been reading my blog, you know I actually hijacked my
Westinghouse
documentary film crew and reshot the Game Room documentary scenes in HD with a steadicam. On used tape no less.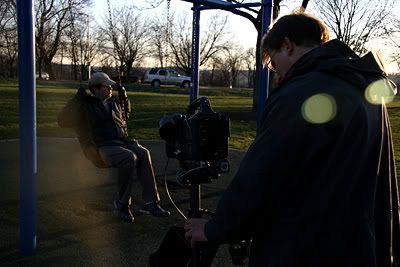 In any event, check out the reviews. Dave is as thrilled as I am that people remember out show years later and maybe someday the
Game Room will Strike Back
. Or
Return of the Game Room
. Whatever. It just won't have damned Ewoks.
REVIEWS:
DVD Talk Review
DVD Times Review
Blogcritics.org Review
NationalGameDepot Review
Videgamecritic.net Review
ReelTalkReviews.com Review