Photos from my ongoing blog saga of our trip to England back in May. These photos are from the 9th day when we hiked hills and crags around Keswick in the Lake District. The photo above is of Derwentwater (lake) as seen from Castle Crag. We walked up there that morning and took some photos of the scenery.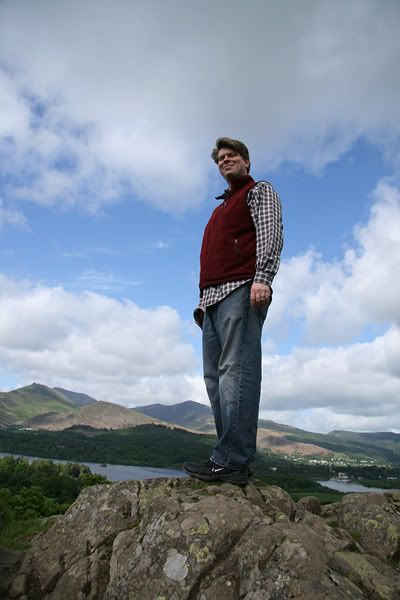 I'm king of the world! Or at least I am king of my own, made-up reality. Anyway, Keswick was one of our favorite towns in all of England and the weather was perfect. After our morning hike we stayed on top of Castle Crag for an hour or so and then wandered back down to town. Next we made our way to Castlerigg Stone Circle.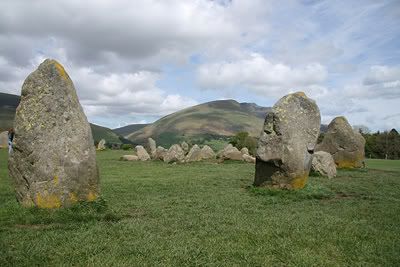 On the map it looked like a short walk. It wasn't. We walked for about 45 minutes to an hour to get there. It was a nice walk but the real kicker was that it was uphill the entire way. The map didn't show that! Regardless, it was a great hike and I highly recommend it. The scenery was fantastic and made me want to hike more! One thing that was cool was watching those peaks in the distance, which are about 2000 feet tall, and seeing these little groups of "real" hikers climbing to the tops. I imagine the views from up there are stunning.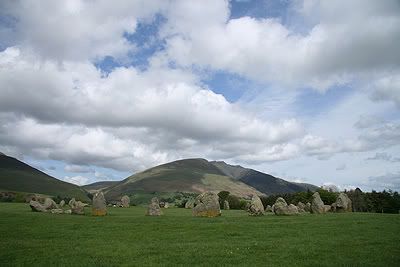 Castlerigg Stone Circle
was another highlight of our trip. When people mention stone circles they always think of Stonehenge. We went to
Avebury
on our last trip to the UK and really enjoyed the fact we could walk around the stones and touch them. We were glad that Castlerigg was similar in that respect.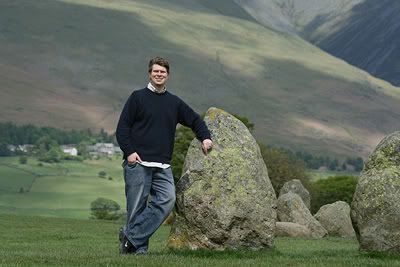 ROCK!
Me and my new pal, Mr. Stone. We must have lounged around Castlerigg for a few hours, the view is quite nice. You are surrounded by hills and fields and rolling clouds casting shadows on the peaks. My wife fell asleep in the field and I took pictures for a while. It was sad to leave but we were getting hungry.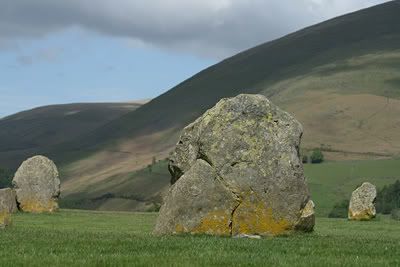 We made it back to town and enjoyed another evening in Keswick's vast array of pubs sampling different local beers. Their local brand is Jennings and the Cocker Hoop was my favorite. Northern English beer is some of the best in the world.