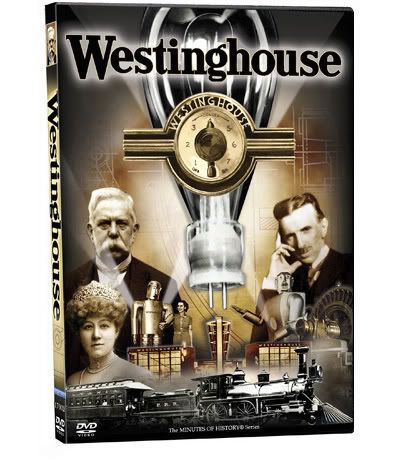 The
Westinghouse
documentary film will be released on April 8th, 2008, on DVD. After a week and a half off I'm back at the "shop" working on some trailers for the film and upcoming PR events.
We're all very excited about the initial reaction to the documentary which has been very positive. I've heard from some engineers that it is "fun", and I'll take that as a compliment. I made the film to be fun, because George Westinghouse was a very technical guy and not much is documented about his personality, so I didn't want a slow technical film. The film is fun, fast paced and really digs into who this guy was and what he did for the world. I think the trailer shows this, click
HERE
to see it.
He wasn't an extravagant celebrity by today's standards, he was married young and stayed with his wife his whole life. He didn't lead the eccentric lifestyle of Howard Hughes. In fact, much of what George Westinghouse did is buried beneath the legend of Thomas Edison (which is a huge part of the film). Westinghouse, is in my opinion the most important American lost in history. If you are reading this blog it is only because of George Westinghouse and his drive to bring alternating current to existance! AC power is running your computer and was used in the construction and development of your computer. Alternating current was made possible by his invention of the air brake to generate capital to start Westinghouse Electric, and his ability to work with people like William Stanley and Nikola Tesla.
The Westinghouse documentary has a run time of 112 minutes and tells the complete story of George Westinghouse, his life, legacy, companies, battle with Thomas Edison and partnership with Nikola Tesla. It was made to be entertaining and informative and most of all enjoyable to watch, and I think we succeeded. I take the film up to the modern age and was very happy to work with some Westinghouse appliances like the Westinghouse roaster, Westinghouse radio, Westinghouse Baconer, Westinghouse Greenhouse, Westinghouse Dog-O-Matic and of course the Westinghouse Twins. The 1939 World's fair is also particularly interesting to me. Westinghouse stole the show with Elektro the robot, the fountains at the Lagoon of Nations and the Battle of the Centuries.
Coincidentally the film is being released at the same year Pittsburgh is celebrating its 250th anniversary. Many people think I planned this but I assure you it just worked out this way! Westinghouse was born in New York but remained a resident of Pittsburgh for most of his life. He companies like
Westinghouse Air Brake
and
The Westinghouse Electric Company
were started here (in Pittsburgh) so I think it is fitting that native Pittsburghers made the film.
The trailers for the film can be viewed
HERE
.
More information on upcoming
Westinghouse
release events and PR to come.