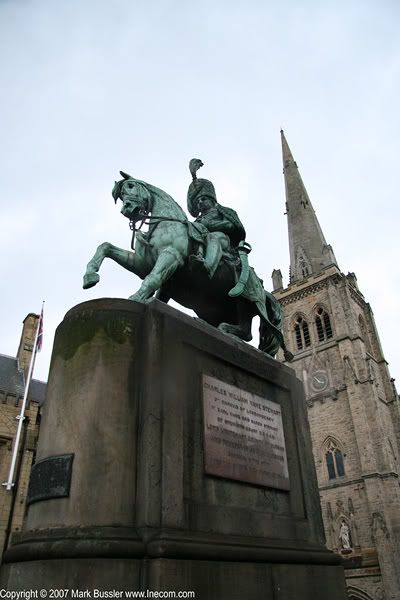 You can click on these photos to see full size versions. Photos are not to be reproduced without my permission.
On the fifth day or our trip we ventured North from Masham on the train and arrived in Durham. It was about this time that I realized that I had not packed nearly enough warm clothes for our trip and that wearing shorts was not going to be an option. I bought a new sweater for the low price of 15 pounds! Which converts to $30. We basically doubled the price of everything because of the value of the pound vs. the dollar which SUCKS. It's a good thing all we ate was pub food.
That night I had a "gammon steak and fried egg". Mmmm... pork.
My wife wanted to see Durham Cathedral, one of the oldest cathedrals in England. We walked through town and through the hordes of drunk college students only to find out that we could not take pictures inside of Durham Cathedral. We were a bit dismayed at this since we love photographing cathedrals. Anyway, it was very impressive inside and worth seeing.
It was a wet and dreary day (like every day in Pittsburgh) but we climbed the tower anyway. Upon reaching the top we were greeted with sheets of ice cold rain and wind. The view might have been nice had i been able to see more than 5 feet in front of me. We trundled down the 300+ steps through another tiny stairway made for 13th century mini-people and went to dinner. My wife snapped off this nice picture from the tower showing where the previous photo was taken from: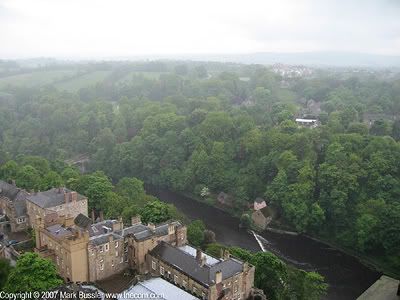 After dinner we decided to try some nightlife. We hit a few pubs and called it another successful day of touring. When travelling I tend to find that any college town can be a bit crowded and irritating, especially when compared to the nice small town atmosphere of Masham. But we made the best of it by hitting a college bar that served
Samuel Smith
on tap! This was one of my favorite beers of the trip, a very smooth and hoppy bitter.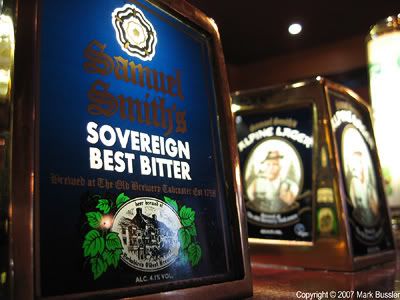 Durham Cathedral is regarded as one of the most impressive Norman buildings in Europe. It is perched high upon a hill next to a castle (now a university building) on the bend of a river. I found the best spot to enjoy it all was away from the busy center of town. I recommend walking along the river to get the best view.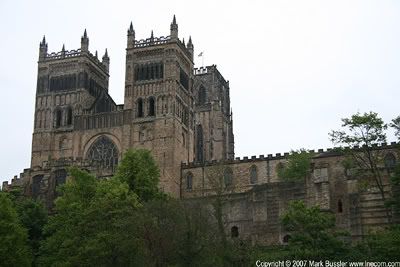 Onward to Scotland for day 6!