World War 1 - American Legacy
features the story of Father Duffy from New York's 69th Infantry, the Fighting Irish. My wife and I shot the pictures of the Father Duffy statue in Times Square in New York City this past May 2006 along with the painting of Charles Whittlesey of Lost Battalion fame in the Williams Club a few blocks away.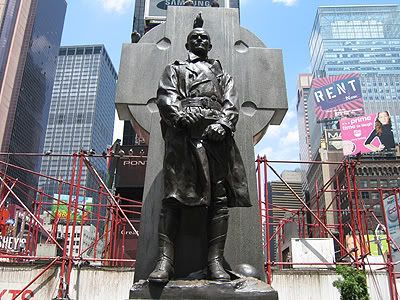 I often wonder if he would have liked all the commercialism surrounding him?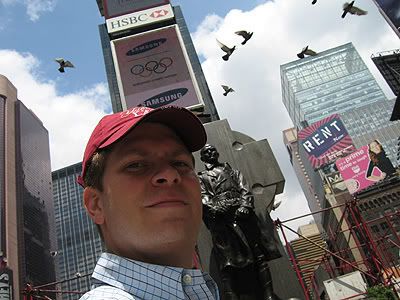 Me in front of impressive Father Duffy statue. The next time you are in Times Square make sure to take a moment to read his statue.
The Empire State building photographed from somewhere nearby. Framed so nicely by a monster robotic arm.
I've grilled some great burgers in my day but none as good as the Double Shack Burger from the Shake Shack. Thank you to Christian, Rocco and Tara for taking us out on the town. Makes filming all more fun.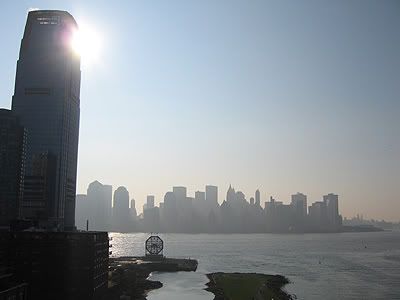 Manhattan as viewed from my friends' patio in Jersey City. I've enjoyed many trips watching the little boats circle the Island and Statue of Liberty nearby. If you've never been to NYC you should go. And hit the Shake Shack while you're there.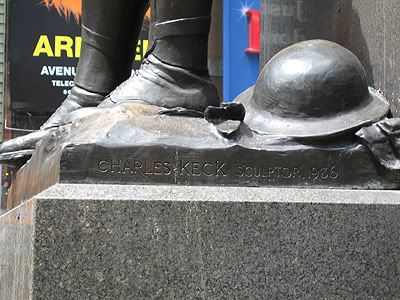 Hope to see you again soon, NYC.