My newest documentary film,
World War 1 - American Legacy
, was released on December 5th, 2006 from
Inecom Entertainment Company
. The official website can be seen at
www.GreatWarFilm.com
. It is a 2 hour documentary film narrated by David Carradine about the American men and women who served in the Great War.
For the technical gurus: We filmed the live footage of WW1 statues in high definition on DVCproHD with the Panasonic Varicam. Still pictures were captured in HD and come from a variety of period sources like the French
L'illustration
magazines and personal photographs. The DVD is produced from a direct digital transfer in anamorphic widescreen with DTS and Dolby Digital surround sound. The DVD is available nationally and at all major online retailers like
Amazon.com
.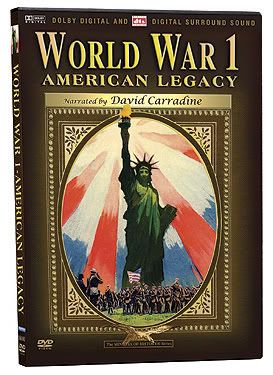 You can view the 100 second trailer for the 2 hour documentary film
here
.
A very special thank you to Betty Jo Tucker and everyone at
www.ReelTalkReviews.com
for the following review of the film and for the interview opportunity:
ReelTalk review of
World War 1 - American Legacy
here
.
Betty Jo Tucker interview with Mark Bussler
here
.
GAME ROOM update.
There has been a recent surge in interest in the
Classic Game Room
episodes that I produced for the Internet way back in 1999 and 2000. We are in the planning stages to release the episodes on DVD from the master tapes. These were originally filmed in 4x3 on Betacam SP and DVCpro with a variety of camera equipment and game review systems like Atari 2600, Nintendo Entertainment System, Sega Genesis, Atari Jaguar, Sony Playstation and N64.
The trailer for
Classic Game Room
is on YouTube
HERE
.
I will keep everyone posted about the Classic Game Room DVD details as they become more clear. More documentary film information is forthcoming.