It was a busy day today, I went out location scouting for a new documentary. I'm not releasing any information on this new film yet except to say that it is going to be a historical film about a great American. We are filming it in High Definition soon which means I had to venture outside the editing suite today and wear my director's hat. Actually it was a knit hat because it was cold.
Here's a picture of Oakland just outside of Pittsburgh, Pennsylvania. The building in the distance is the Cathedral of Learning at the University of Pittsburgh, a very cool building. Off to the right is Carnegie Mellon University. And off to the left is Phipps Conservatory, which is where I filmed a number of botanical shots for my film,
Expo: Magic of the White City
a few years ago. I believe Phipps Conservatory was constructed in late 1893, just a few month's after the Chicago World's Fair. It looks very similar to the Horticulture Building at the Columbian Exposition in fact. Someone at Phipps told me they have 2 trees FROM the fair. I'm not sure if that's true or not but it makes for a neat story.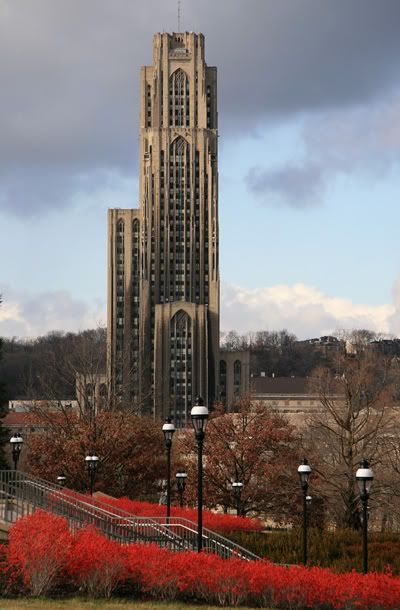 The Cathedral of Learning at Pitt looks like it would be right at home in Ghostbusters. Incidentally it makes a surprise appearance in my
Classic Game Room: The Rise and Fall of the Internet's Greatest Video Game Review Show
documentary. It appears in clips from my student film,
Loco Ninja
, my Super 8 martial arts movie about a Ninja who wins at beer pong and then decapitates his opponent. Its a great film and should have won many awards.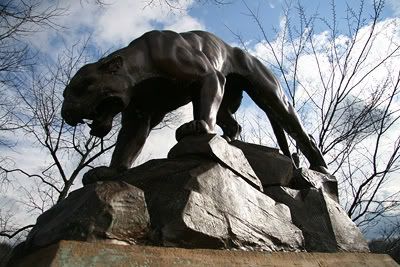 Panthers!? Watch out for Panthers! The woods of Pennsylvania used to be teeming with them back in the 1700's during the days of the Whiskey Rebellion and George Washington. There is some beautiful statuary in Oakland if you walk around. You can also visit the
Original Hot Dog Shop
and stock up on double fried french fries and some cold malt liquor.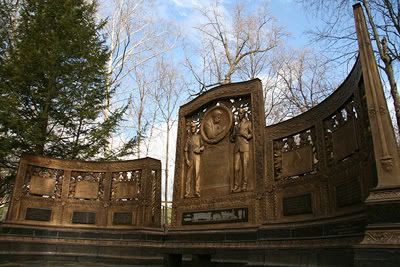 This is a monument to
George Westinghouse
that was erected in 1930. George Westinghouse was a Union soldier, industrialist, inventor and a resident of Pittsburgh. A very, very interesting man who helped change the world and our country... did I say what my new documentary was about yet?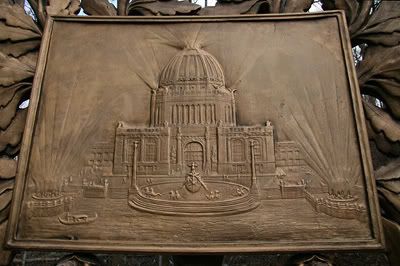 The classic Westinghouse vs. Edison rivalry heated up at the Chicago World's Fair of 1893 when Westinghouse won the contract to light the fair with AC Power, thus beating out Edison's DC power. This is honored on the monument with this surprising image of the Administration Building at the World's Fair flanked by the two fountains in the Court of Honor. I'm pretty down with my 1893 World's Fair knowledge after working for nearly 3 years on
Expo: Magic of the White City
. Its truly fascinating and not just because I made a film about it.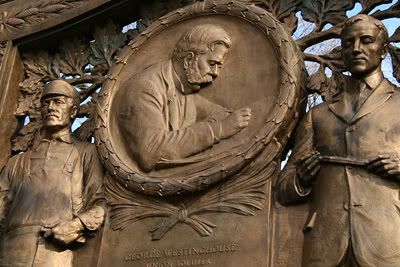 I'm also always surprised with how many ties my hometown of Pittsburgh has with the fair like Westinghouse. George Ferris lived in Pittsburgh. He invented the Ferris Wheel which debuted at the fair to compete with the Eiffel Tower. Above is another shot of the Westinghouse memorial in Schenley Park. You can see the Ferris Wheel on the front of our packaging on Amazon.com
HERE
.
More production news and photos to come. To hold over the rabid
Classic Game Room
fans here's a shot of the new Adobe Premier Pro editing system back up on dual screens and the 36" monitor.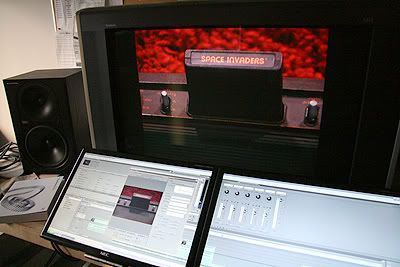 Space Invaders!? Shag Carpet!? It must be
Classic Game Room
.