Sometimes when I'm in the middle of production on one film (
Classic Game Room
) and in pre-production on several others I completely forget that I just had a film released a few weeks ago.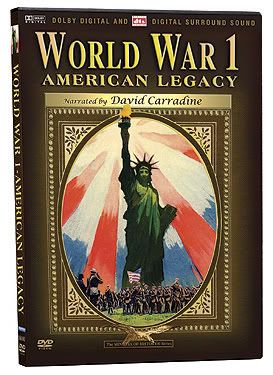 World War 1 - American Legacy
narrated by David Carradine was unleashed to the world on December 5th, 2006. I just got word of two terrific new reviews and want to thank Paul Mavis at
DVDtalk.com
. Additionally I would like to thank
Naval-History.net
for their review.
DVDtalk said: From Inecom Entertainment comes World War 1: American Legacy, a wonderful documentary from their Minutes of History series. Utilizing spectacular black and white stills, paintings, propaganda posters, and newspaper clippings, World War 1: American Legacy bypasses a traditional chronological, straightforward history lesson on The Great War, to give the viewer a more impressionistic feel for the conflict, highlighting stories of influential people who impacted events in the War to End all Wars. Narrated by David Carradine,
World War 1: American Legacy
is a marvelous introduction to this increasingly forgotten conflict.
Read the full DVDtalk.com review
HERE
.
Naval-History.net said: "Powerful, balanced, brilliant use of stills, truly excellent, David Carradine's commentary strikes the right note."
Betty Jo Tucker at ReelTalkReviews.com reviewed the film a few weeks ago, you can
read her review
HERE
. Thank you for your continuing support of independent filmmaking Betty Jo!!
I don't have any production stills for
WW1 American Legacy
because the majority of the film is edited with period artwork, newspapers, photographs and drawings. Most of the work was done on the computer in editing. I wrote a blog post on our sound design and you can read that
HERE
.
Jay and I filmed some beautiful scenes of Pittsburgh's collection of Great War monuments and they are something to be seen in person. Pictured above is the monument on Butler Street & Penn Avenue overlooking downtown Pittsburgh, Pennsylvania, one of the most striking monuments I have ever seen. You can read my blog post on the Father Duffy monument at Times Square in New York City,
HERE
.
Thank you again to all those who took the time to watch the film and reviewed it for others to see. I appreciate it greatly. If you are interested in purchasing a copy of the DVD it is available
HERE
at Amazon.com and most other online retailers.