In exciting news this week, my film
Horses of Gettysburg
is going to be broadcast on Television this summer to nearly 85% of the United States population!
Horses of Gettysburg
will be distributed to public television stations nationwide by American Public Television (APT). Beginning in June 2007, the special will air in both standard and high definition formats on up to 243 stations reaching 84% of households in the United States (check local listings for dates/times in your area). Narrated by Ronald F. Maxwell, director of Gettysburg and Gods and Generals, the feature documentary is presented by Penn State Public Broadcasting (PSPB).
Filmed in high-definition with charging horses, period photographs and battlefield panoramas with no "talking heads," this cinematic documentary tells the story of the estimated 72,000 horses and mules that fought at the Battle of Gettysburg and uncovers the strategies employed to ensure that the millions of animals in service with the North and South remained healthy and well-trained for action.
Horses of Gettysburg
will air as a 56 minute High Definition program. The "director's cut" of the film is 2 hours long and available on DVD now at you favorite retailer.
I was talking to a program manager recently who asked me "what's in the director's cut that isn't in the tv version, what did you cut out?" I said "I cut out the shower scene". He laughed so I think he knew I was joking.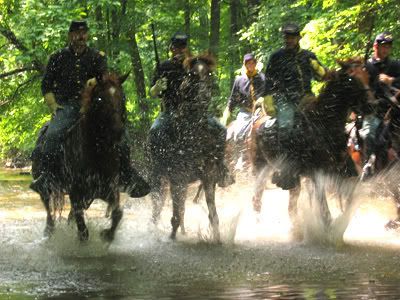 The full version of the film on DVD comes in a great box set with the 2 hour cut of the film (anamorphic transfer from the HD master), 2 commentary tracks, and a 2nd disc which is 3-hours chock full of special features. A behind the scenes making of Horses of Gettysburg, a short on horses as the 1893 World's Fair in Chicago, 2 interviews with Ronald F. Maxwell (Director of
Gettysburg
and
Gods and Generals
), an interview with Doug Sloan a professional horse wrangler and more.
The DVD is distributed by
Inecom Entertainment Company
out of Pittsburgh, Pennsylvania.
You can read the Inecom Blog announcing the pickup:
INECOM BLOG
Horses of Gettysburg
is one of my favorite films that I've produced. You might think "but Mark, don't you like all your work?". Well, let me tell you, after working on a film for 8-12 months straight on a computer without a break I often need a year or two away from them before I can watch them again.
However
Horses of Gettysburg
was such a pleasant experience to produce. I had a lot of fun working with the script, the horses and narrator Ronald F. Maxwell. I was very happy with the visuals from the film, the sunsets, the monuments, the horses charging through open fields and down streams.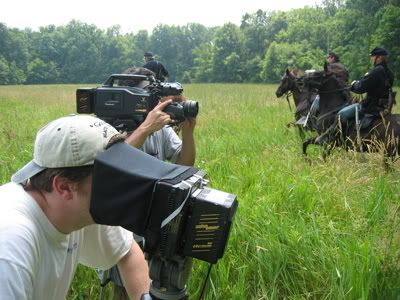 Above - Scene of us filming with Panasonic Varicam in Gettysburg, PA.
It is a collection of great stories of people and animals under fire. The cimematography is top notch, the narration is tremendous and I'm totally biased of course. I dig it. But I've never heard or seen a negative comment about
Horses of Gettysburg
. Check out the 5 star ratings on
Amazon.com
HERE
.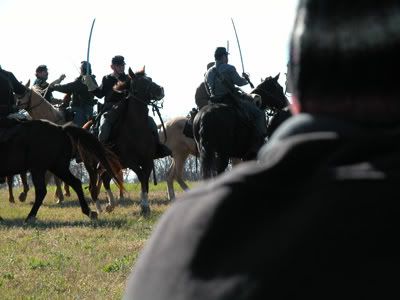 To see the film in HD keep an eye out for the HD Television schedule at
www.HorsesOfGettysburg.com
.
We filmed Horses of Gettysburg throughout May 2005 and November 2005. In May it was about 100 degrees outside and humid. But everyone did a great job, including the horses who were very hot and sweaty by the time we were done. We all drank a LOT of water and Gatorade that day. Being an independent film crew we don't get air conditioned trailers and shrimp with cocktail sauce. Its pizza, water and lots of hard work. Cheers to everyone involved. We filmed with Nickel the mule too!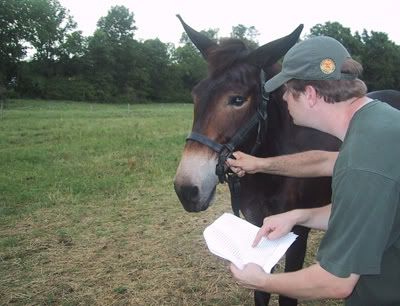 Me teaching Nickel his lines. Him ignoring me.
That's all for now. My next film is a little different...
Classic Game Room: The Rise and Fall of the Internet's Greatest Video Game Review Show
.
A new Video Blog for
Classic Game Room
was just posted on
YouTube HERE.