Long before I was a documentary filmmaker I was a budding cartoonist. I had visions of drawing comic books and comic strips and making a living that way. Then I graduated from college, went to work in the Internet explosion and one thing led to another and I ended up as a digital filmmaker.
These days I no longer draw comics because directing, editing and photography take up most of my creative time. However I still love comic book art and remain proud of the work that I produced back in the day. I decided that I will post all of my comic work online at my new blog dedicated to my artwork:
Mark Bussler Comics
I am starting with the entire Captain Bucknell series, my comic strip that ran in the
Bucknellian
newspaper at Bucknell University from 1996-1997. I'll post a new episode once or twice a week.
Below is the link to Captain Bucknell #1. Originally published in early 1996. Click on the Picture to read the comic at
Mark Bussler Comics
.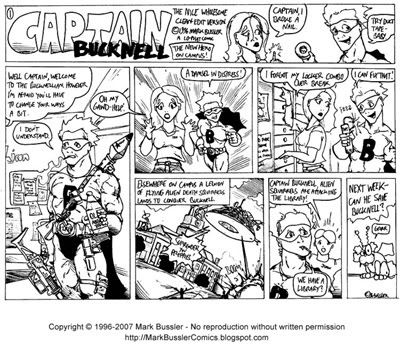 The blog that you are now reading will remain dedicated to my filmmaking projects like
Expo: Magic of the White City
,
Classic Game Room
and work in progress like the film on George Westinghouse that I have been producing this year.
So bookmark
Mark Bussler Comics
or subscribe to the RSS feed and read ahoy! I'll be posting new comics every week from my archive collection!
More news and a video blog on
Classic Game Room
coming this week as well as new Westinghouse information. Stay tuned.